Géodésique Brand Story
Yuji Kojima was born in a ZEN temple that has 500 years of history. Yuji was also born on Buddha's birthday, which is April 8th. He majored in French literature and Philosophy. However, after graduation, Yuji started his career at a great jewelry studio in Kamakura. He got into the jewelry business because he likes creating things with his own hands. After that, Yuji independently started a business and he has been designing and manufacturing various jewelry for Casual Japanese fashion brands since then. Mayuli Morishita, Yuji's partner, started her career by becoming an interior designer under her father who was also an interior designer. She worked as an interior designer for five years. After that she worked for ONWARD, a Japanese fashion apparel company, in which she gained experience for another five years as a jewelry designer of "Jean-Paul GAULTIER bijoux". Afterwards, Mayuli moved to Paris in February, 1996.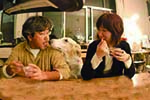 YUJI and Mayuli started their collaboration between Tokyo and Paris in 1996. Following its debut, "GÉODÉSIQUE" was featured in various fashion publications, such as French and Italian fashion magazines, along with French newspapers. Yuji set up the branch office and got the brand's *poinçon from the government in Paris in 1997. Afterwards, the business has started in full swing. Moreover they also started a business in New York in 1999. (*poinçon is a hallmark. There is a need for not only a certificate of quality but also own brands hallmark in France.)GÉODÉSIQUE was chosen as one of the "10 brands which 'Place Vendôme' can not ignore" on FIGALO in 2006. (*Place Vendôme is the most famous as a place where gathering super high quality jewelry brands in the world.) A conventional achievement was accepted; Yuji was invited to be a professor at Kyoto University of Art and Design (KUAD) in 2007. He is currently working as professor for the university. In 2016, it was the 20th anniversary of the brand. Yuji and Mayuli decided to hand over the head designer's position to a super talented, young designer, Tomoki Nakai. He was one of Yuji Kojima seminar students in the university. Taking this opportunity, they decided to change their brand's name from uppercase to read better in lower case : Géodésique.

TOMOKI NAKAI was born and raised in Kyoto. He learned Japanese tea-ceremony and making Japanese Kates from his grandfather who loved art deeply. Tomoki is a genius when it comes to creating, so his graduation works took three prides in KUAD. After he graduated he joined the Institute Rathio which was set up by Yuji Kojima. Tomoki studied and worked there a lot for two years. After his work with the Institute Rathio , he has become one of Géodésique's creators in 2013. He is very good at intricate representational works of jewelry, he has had the opportunity to travel to many places around the world and is announcing collections inspired from many different cultures throughout the world. Since 1996, "Géodésique" has been aiming to become a brand that last over the centuries and creates only real jewelry by hand in their studio.                          〜Clementia In Potentia〜